Monsignor Bronisław Gostomski
2003 – 2010 - the fourth Parish Priest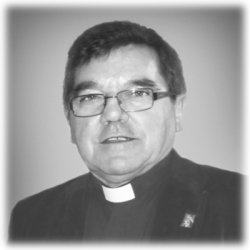 Monsignor Bronisław GostomskiBronisław Gostomski was born on 9 November 1948 in Sierpc in the diocese of Płock, into a family with strong religious roots. In 1966 he entered the Higher Seminary in Płock where after six years of study he was ordained a priest on 18 June 1972 by Bishop Bogdan Sikorski. Following a brief period as an assistant Parish Priest he was directed by his bishop to continue his studies at the Catholic University of Lublin in 1974. In 1979 he gained his Masters degree in history. Little did he know how strongly history would play a part in his life.
In December 1979 he began his pastoral work in England, first in the Polish Parish of Our Lady Mother of the Church in Ealing, west London. He was then sent to the Polish Parish in Peterborough and then Bradford being parish priest in both towns. This was a difficult period in Poland's history. On the one hand the joy of the election of a pope from Poland on the other the political difficulties at home ending in the imposition of martial law in December 1981. The Polish exiled community lived these events and Fr Gostomski lived it with them. Wherever he served he became known as a fervent patriot, ever optimistic and full of joy. Not only was he assiduous in the spiritual development of his parishes but fostered good ecumenical contacts with followers of other religions.
In March 2003 Pope John Paul II made him a prelate and in September of that year he was nominated Parish Priest of St.Andrew Bobola Church in London's Hammersmith district. Here his keen historical consciousness developed deeper on being appointed Chaplain to the Polish Ex-Combatant Association (veterans of the Polish Army during the Second World War). He had a great affinity with the old soldier exiles and their families born and raised in exile. With his spontaneous love and openness he also gained the trust and devotion of the new wave of Poles settling in England, this time not as political exiles but in search of a better future for themselves and their families. Put simply he was a true father to his parishioners.
St.Andrew Bobola's Church contains the Shrine to Our Victorious Lady of Kozielsk. Father Gostomski was a fervent propogator of the cult of Our Lady of Kozielsk understanding the significance and importance of this particular icon as a sure path for exiled veterans faithful to Mary the Mother of Christ. Fr.Gostomski worked towards and wished that all young Poles be devoted to Her as much as those who went into battle with Her name on their lips and subsequently thanked Her for answering their prayers. He wore Her picture with pride in his lapel and with Her he went on his last journey, to the place were it all began....
Monsignor Gostomski was killed on 10 April 2010 when the presidential aeroplane carrying Poland's state, political, military and religious dignitaries crashed near Smolensk on their way to pay their respects to the victims of the Katyn Massacre on the 70th anniversary of their murder.